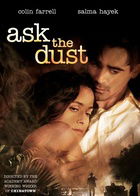 Posted : 10 years, 5 months ago on 20 December 2007 12:01 (A review of
Ask the Dust
)
I really enjoyed this movie a lot and hadn't really been expecting much, considering I'd never heard of it before my TiVo wishlist hit on it. Colin Farrell and Salma Hayek have some nice chemistry here and their performances are quite good. It's now one of my favorite Colin movies.

0 comments,
Reply to this entry
Posted : 10 years, 5 months ago on 17 December 2007 07:07 (A review of
I Am Legend
)
While I prefer the downbeat ending of the book, I quite liked the new movie, mostly because one of the most appealing aspects of this genre for me is the "man alone in the empty city". I was quite content watching Will Smith hunt and play golf and talk to himself or to the dog. Far less content with how significantly they changed the meaning of Matheson's story, but that's Hollywood for you.

0 comments,
Reply to this entry